Learn How to Learn English
Learning a language is a bumpy road!
Sometimes muddy and unpleasant. It's easy to get lost with loads of work and things to focus at times without having a person on your side to walk you through the process.
If you've ever asked yourself these questions, then this course can help you;
Why don't I have the courage to speak in English after years of learning it?

Is it really possible to learn all four skills independently without being spoon-fed by a teacher or a class?
Why can I only speak about familiar topics after years of taking English lessons?

I memorize English vocabulary but why do I keep forgetting them?
Why can't I stop making the same mistakes in my sentences?

Is English for me? I can never learn how to use it naturally!
My name is Sahar and I can help you, the way that I've helped many other people like you since I started teaching English in 2008.
I want to share the knowledge I have gained over the years of learning English and teaching it to people who chased the same goals as yours.
 I want to hep you find your own unique way of learning English and become an independent learner.
I know in my heart that this is why I started teaching in the first place.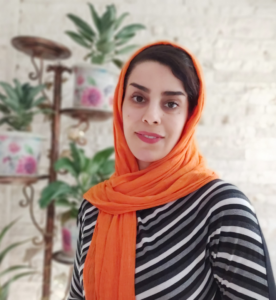 Become an Independent English Learner
You'll learn by being deeply engaged; It integrates English into your everyday life.
What type of lessons?
Tailored lessons to brush up on your primary knowledge and cover your needs.
Full back-up of video recordings and whiteboard of each session, so you can get back to it later to review.
How many sessions?
From 1 to 3 sessions a week. You will decide after your strategy call with your teacher.
How long?
Private sessions 60~80min
Bonus
Full access to one of Speaking Booster Memberships
What Learners Say

Active support group
University Student
Hesam -Austria: The support group was really active and helped me to brush upon my English and learn consistently. It was my favorite program ever.

I changed my mindset!
CEO
Mohammad Ali from Iran: Your support of your students is priceless. I used to study English intensively every day but never noticed that I wasn't practicing it effectively. I learned how to change my mindset and perspective about learning this language. Thank you.

Love the topics!
Highschool Student
Mani Samani- Iran: Love the topics, they are things I am, and will be, dealing with in my life as a teenager. It's not just the English I'm learning, there are life lessons too. All in all, thanks for what you're doing for us.

English every day!
University Student
Harir- Austria: I keep learning English every day. I also want to say that your program was so effective for me and I made some progress in speaking.

It did work!
Bank Accountant
Mahdie Haghighat- Iran: The topic of Digital Wellness was really a useful one. I implemented some of its method in my life; it did work!

It motivates me to study!
Member at SBP Teens
Hi Zol- Iran: little by little it adds to our knowledge and English vocabulary. Being with other learners, who always have a lot to say, motivates me to study, search, and learn more to share more.

A supportive learning environment
Member at SBP Teens
Amirhossein- Iran: I don't think I can find any institute or classes with the same effective and supportive learning environment that I'm experiencing here.

A safe learning environment
Senior member - SBP Mastery
Leila- Scotland: I've regained my confidence, in a safe learning environment where there's no room for judgment or striving for perfection.
I became able to clearly see the blocks in the way of going further with my language skills.

I use it in my life!
Member at SBP Teens
Hasti M.- Iran: I have taken other English lessons before and what they teach is from the textbook, things that I hardly ever need to use in my real-time conversations. You know what is necessary for your learners to learn.

I WAS IN SHOCK!
Senior member - SBP Mastery
Magali- Argentina: I've improved in a way that might be hard to identify by myself, but others clearly see it.
THANK YOU Sahar for this opportunity. Of course, I still have a lot to improve. It's part of learning a new language, and I love it.
Entry requirements:
Time: enough time to work on bits of English every day. It's a teamwork between you and me! 🙂
FAQ
I don't live in Iran and my payment doesn't go through. How should I complete my payment??
I accept PayPal and Tether. Unfortunately, because of the current issues of my country, we can't link our websites to the international payment systems directly. In our preparation meeting we will discuss a payment method which is convenient for both of us.
What if I change my mind, or I'm unhappy with the system?
As we are a team, I check in with you frequently to tune up the lessons and practice plans so I can make them fully cover your needs. While I'm sure you'll fall in love with the process, but I also understand that sometimes things just don't work for any reason. In that case, you can drop the plan any time and get the refund for the remaining weeks. You can also join other plans that fits your level of English.
What don't I get with this plan?
This course is not for teaching you the basics. Unfortunately, my classes aren't useful for beginner levels.
Why this price?
I only accept a limited number of learners to fully focus on their needs and having enough time to track their progress and provide them with quality lessons. There are inexpensive services provided for those who cannot afford private lessons. Check out the academy homepage to find them.